Female Officers and Male Police-Perpetrated Domestic Violence
Author: Joan Zorza, Esq..
Source: Volume 12, Number 02, December/January 2007 , pp.19-21(3)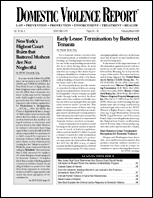 < previous article |next article > |return to table of contents
Abstract:
Diane Wetendorf captures the mentality of police who are perpetrators of domestic violence, showing that their victims, particularly when they are female officers, are the least understood and most endangered of all domestic violence victims. In her most insightful book, Crossing the Threshold: Female Officers and Police-Perpetrated Domestic Violence, she sets forth how police are a world unto themselves and how their brotherhood protects batterers within their ranks.
Keywords: racism in police culture; sexism in police culture; female officer seen as largely dispensable, unstable, and lacking in credibility; No-Win situation for abused female officers

Affiliations: 1: Editor, Domestic Violence Report.