Research & Practice in Cahoots: A Guide to Research for Practitioners (Part I)
Author: Jill Theresa Messing, MSW, PhD.
Source: Volume 12, Number 02, December/January 2007 , pp.17-18(2)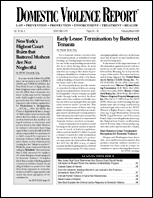 < previous article |next article > |return to table of contents
Abstract:
This is a first-person column on the role of research in a social welfare practice. Research can answer questions about client satisfaction, the need for services within a community, or the danger that a particular group of victims faces. Research can explore different perceptions of safety and fear, it can help us to understand the effects of battering on victims and children, and it can answer questions about the goals and hopes of victims. The truly remarkable thing about research is that it is a system that, once understood, can be applied to any question that you have and provide an answer. It is the first of a six-part series.
Keywords: Research and Practice—A Two-Way Street

Affiliations: 1: University of California, Berkeley.