Kids and Divorce: For Better or For Worse
Author: Mo Therese Hannah, Ph.D. .
Source: Volume 12, Number 02, December/January 2007 , pp.17-18(2)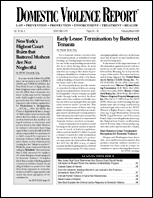 next article > |return to table of contents
Abstract:
This "long-awaited" documentary, which was set to air on some PBS stations on September 14, 2006, interweaves scenes of children and parents discussing their post-divorce experiences with interviews of selected (and mostly unknown) "experts," who give their views on various post-divorce child custody issues in several question-and-answer sessions. The emphasis of the video is on relatively common concerns.
Keywords: devoted to cases in which there is no evidence of IPV; Breaking the Silence: Children's Stories; Joan Kelly; Marjorie Slabach; Isolina Ricci; Andrew Shephard; Marsha Pruett; Peter Jaffe; Richard Warshak; Nadine Blaschak-Brown; glorification of supe

Affiliations: 1: Siena College.