Why the Abused Should Not Become the Accused
Author: Erin S. Gaddy.
Source: Volume 12, Number 04, April/May 2007 , pp.57-60(4)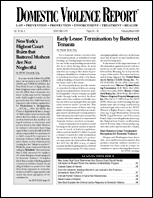 < previous article |next article > |return to table of contents
Abstract:
Many domestic violence prosecutors have found themselves struggling with what to do about recanting or uncooperative victims. The primary goal of prosecution is to do justice, by making the best legal case possible based on the admissible evidence; to achieve this goal, prosecutors push as hard as they can within their ethical boundaries to make society safe from domestic violence by convicting and punishing offenders. However, this approach does not always allow for victim autonomy in deciding whether to prosecute a case; this decision is ultimately made by the prosecutor. How can prosecutors acknowledge the victim's voice in her own life while following the no-drop policy in effect in many prosecutors' offices today?
Keywords: fear of retaliation by abusers; arresting victims endangers VAWA funding

Affiliations: 1: National Center for the Prosecution of Violence Against Women.