GPS Monitoring Systems for Batterers: Exploring a New Paradigm of Offender Accountability and Victim/Survivor Safety
Author: Diane L. Rosenfeld, Esq..; Kirstin Scheffler.
Source: Volume 12, Number 04, April/May 2007 , pp.49-52(4)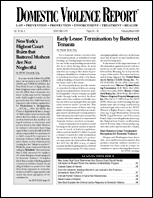 next article > |return to table of contents
Abstract:
On September 18, 2006, John Woodring broke into a battered women's shelter in Jacksonville County, North Carolina in pursuit of his estranged wife, Bonnie Woodring, and shot her to death in the kitchen. This article explores the background of this crime, the failures of monitoring, and proposes recommendations.
Keywords: Global Positioning Satellite; Massachusetts GPS legislation; batterer detention

Affiliations: 1: Harvard Law School.