Complete Issue
Author: Joan Zorza, Esq..
Source: Volume 12, Number 05, June/July 2007 , pp.65-80(16)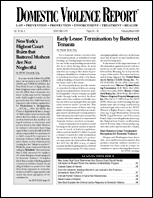 < previous article |return to table of contents
Abstract:
This is the complete issue, Volume 12 Number 5. It includes the full text of all the articles listed above, with hyperlinks from table of contents entries to articles and linked article continuations, to facilitate reading.
Keywords: Richard Gardner's first legacy: PAS; FPC Chills Women From Raising Abuse Allegations; Hays v. Gama; Tekestev B.M. v. Zeineba H; Lawrence v. Lawrence; Hopper v. Hopper; John A. v. Bridget M; "Do Laws Restricting Access to Firearms by Domestic Vio

Affiliations: 1: Editor, Domestic Violence Report.