Two Novel Immigration Cases
Author: Anne L. Perry, Esq..
Source: Volume 12, Number 05, June/July 2007 , pp.69-71(3)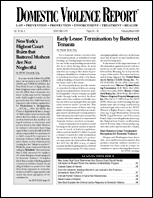 < previous article |next article > |return to table of contents
Abstract:
This article discusses two recent cases involving immigration and issues of domestic violence, Fernandez-Ruiz v. Gonzales and M. K. V. v. Eggleston.
Keywords: Southern District of New York: Court Grants Preliminary Injunction and Class Action Status to Battered Immigrant Spouses and Their Children Who Were Denied Federal and State Public Assistance; Ninth Circuit: Misdemeanor Domestic Violence Assault Was

Affiliations: 1: Associate Editor of DVR.