New Hampshire Supreme Court Finds Marriage License Fee Allocated for Domestic Violence Programs Is Valid Fee, Not Unconstitutional Tax
Author: Staff Editors.
Source: Volume 12, Number 06, August/September 2007 , pp.89-90(2)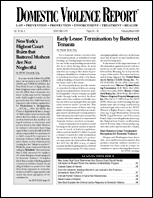 < previous article |next article > |return to table of contents
Abstract:
The petitioners, two married couples who each paid $45 to obtain marriage licenses, sued the Commissioner of the New Hampshire Department of Health and Human Services arguing that a portion of the fee was, in fact, an unlawful tax. The governing statute allocated $38 from each fee for a special fund for domestic violence programs (DOVE Fund). The sole purpose of this fund was to provide revenues for the domestic violence program as established by the statute, and the monies were not available for any other purpose. The plaintiffs alleged that the $38 portion violated the State's constitution. Both parties moved for summary judgment based on exhibits and affidavits.c
Keywords: valid fee, not a tax; New Hampshire Supreme Court Upholds Trial Court

Affiliations: .