Family Law Quarterly Special Issue on Domestic Violence–Part I
Author: Nancy K. D. Lemon, Esq..
Source: Volume 12, Number 06, August/September 2007 , pp.83-84(2)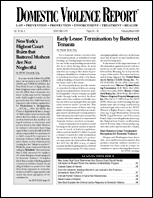 < previous article |next article > |return to table of contents
Abstract:
For only the second time it its history the Family Law Section of the American Bar Association (ABA) published a special issue of Family Law Quarterly on domestic violence [39(1) Family Law Quarterly Spring 2005: Special Issue on Domestic Violence. This issue came out just after the U.S. Supreme Court heard the Gonzales case, which set the tone for the issue. Ten years earlier, the Family Law Section published its first special issue on domestic violence, just after the first Violence Against Women Act was enacted. Since then, the editor notes, there have been many changes. "However, as the Gonzales case illustrates, there is much yet to be done." This is the first in a series of articles reviewing the special issue, although "ADA County Family Court: Shaping the Means to Better Research" was reviewed at 11 DVR 33, 46-47 (2006). It discusses the Introduction by Lisae C. Jordan, includes a checklist on domestic violence to be utilized by judges dealing with related cases, and reviews, "Lawyer Malpractice and Domestic Violence: Are We Revictimizing Our Clients?", by Margaret Drew.
Keywords: Judicial Checklist

Affiliations: 1: Associate Editor of DVR.