Mothers File International Court Complaint Against the U.S.
Author: Dianne J. Post, J.D..
Source: Volume 12, Number 06, August/September 2007 , pp.81-82(2)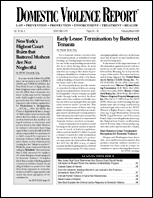 < previous article |next article > |return to table of contents
Abstract:
Ten years ago a group of women organized a protest in Washington D.C. called "Give Our Children Back." The goal was to change the policy and practice of courts giving custody or unsupervised visitation of children to abusers and molesters. Judge Sol Gothard of Louisiana said, in the introduction to Wendy Titelman's book about her experience in which the court has prohibited her contact with her children for over six years, that this practice has been going on for at least 40 years. On 11 May 2007 a petition was filed in the Inter-American Commission for Human Rights (IACHR) against the U.S. for the pattern and practice of violating the human rights of women and children by ordering children into the custody of abusers or molesters.
Keywords: American Convention on Human Rights; Declaration on the Rights and Responsibilities of Man

Affiliations: 1: University of Wisconsin .