Factoids That Challenge Efforts to Curb Violence Against Women
Author: Walter S. DeKeseredy, Ph.D..
Source: Volume 12, Number 06, August/September 2007 , pp.81-85(5)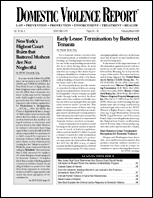 next article > |return to table of contents
Abstract:
A factoid as "an invented fact believed to be true because of its appearance in print." Researchers, activists and practitioners struggling to end violence against women are all too familiar with factoids, which often become much more than what this dictionary refers to as "brief and usually trivial news items". Indeed, many factoids create major challenges for people who provide much needed services to the alarming number of women who are beaten, sexually assaulted, or abused in many other ways by their current or former male partners. will focus on five key issues and address their implications for our work in the field: Women Are as Violent as Men in Intimate Relationships; Marriage Protects Women From Intimate Partner Violence; Violence Against Women Cuts Across All Socioeconomic Categories; Violence Against Women Is Intergenerational in Nature; Feminist Scholars Only Offer Single-Factor Explanations for Violence Against Women.
Keywords: alcohol abuse as factor; violence against women in public housing

Affiliations: 1: University of Ontario Institute of Technology .