Complete Issue
Author: Joan Zorza, Esq..
Source: Volume 13, Number 01, October/November 2007 , pp.1-16(16)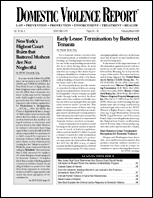 < previous article |return to table of contents
Abstract:
This is the complete issue, Volume 13 Number 1. It includes the full text of all the articles listed above, with hyperlinks from table of contents entries to articles and linked article continuations, to facilitate reading.
Keywords: Misleading Nature of MMPI-2 Profiles for Abusers and Victims; context of test-taker's life; Examples of Stalking Behaviors That State Laws Might Cover; Texas: Mutual Order Void Where Respondent Filed No Pleading; Case Not Moot Despite Expiration of

Affiliations: 1: Editor, Domestic Violence Report.