Research & Practice in Cahoots: A Guide to Research for Practitioners, Part 6
Author: Jill Theresa Messing, MSW, PhD.
Source: Volume 13, Number 01, October/November 2007 , pp.11-13(3)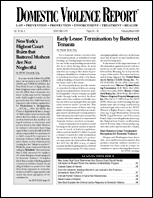 < previous article |next article > |return to table of contents
Abstract:
This is the final article in a six-part series on research methodology, developed for domestic violence practitioners. Previously discussed were sampling, design, bias within questions, and statistics. Here each of these topics is reviewed and this information is built on by the author to discuss how the practitioner may effectively answer simple questions about their agency, practice, or clients. Discussed finally is the importance of evidence based practice, and of understanding the relationship between the services provided and the outcome sought.
Keywords: research evolves over time; using intake forms; use of CAT; Critical Appraisal Techniques

Affiliations: 1: Johns Hopkins University.