Mutual Restraining Orders and Mootness Issues Regarding Appeals
Author: Anne L. Perry, Esq. .; Joan Zorza, Esq..
Source: Volume 13, Number 01, October/November 2007 , pp.9-12(4)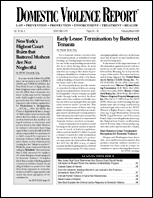 < previous article |next article > |return to table of contents
Abstract:
This article summarizes and discusses recent court cases regarding the title subject, including: State of Texas for the Protection of Cockerham v. Cockerham, 218 SW3d 298 (Tex. App., 2007); Monterroso v. Moran, 135 Cal.App.4th 732 (Cal. Ct. App. 2006); Rosiles-Flores v. Browning, 145 P.3d 328 (Or. Ct. App. 2006); Cooper v. Cooper, 144 P.3d 451 (Alaska 2006); Putnam v. Kennedy, 900 A.2d 256 (Conn. 2006); and Katherine B.T. v. Jackson, __ S.E.2d __, 2006 WL 3456474 (W.V. Ct. App. 2006).
Keywords: Texas: Mutual Order Void Where Respondent Filed No Pleading; Case Not Moot Despite Expiration of Order; California: Trial Court Erred in Entering Mutual Restraining Order Without Detailed Findings of Fact That Both Parties Acted Primarily as Aggresso

Affiliations: 1: Associate Editor of DVR; 2: Editor.