Family Law Quarterly Special Issue on Domestic Violence – Part II
Author: Nancy K. D. Lemon, Esq..
Source: Volume 13, Number 01, October/November 2007 , pp.5-7(3)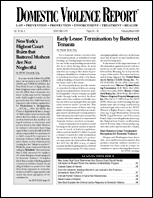 < previous article |next article > |return to table of contents
Abstract:
This is the second in a series of articles reviewing a special issue on domestic violence published in the spring of 2005 by the ABA Section of Family Law, 39 (1) Family Law Quarterly Spring 2005: Special Issue on Domestic Violence. Reviewed here is the article: "Domestic Violence and Mediation: Responding to the Challenges of Crafting Effective Screens", by Jane C. Murphy and Robert Rubinson.
Keywords: Misleading Nature of MMPI-2 Profiles for Abusers and Victims; context of test-taker's life

Affiliations: 1: Associate Editor of DVR.