Do State Domestic Violence Laws Protect Teens?
Author: Liza Lorenz.; Brandy Davis.; Kavita Ramakrishnan .; Sheila Chun.
Source: Volume 13, Number 01, October/November 2007 , pp.1-4(4)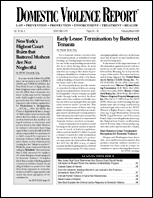 next article > |return to table of contents
Abstract:
This is the first of two articles from Break the Cycle. The second one will be in the next issue and will suggest how laws can be changed to protect teens from dating violence. All 50 states and the District of Columbia have civil laws designed to protect victims of domestic violence; however, in these laws, many states fail to provide sufficient procedural and remedial provisions for teen victims. This article discusses the issue and summarizes state-by-state the legal status of relevant legislation.
Keywords: provisions for minor abusers

Affiliations: 1: Break the Cycle; 2: Break the Cycle; 3: UCLA School of Law; 4: University of Connecticut School of Law .