Domestic Violence Causes Father to Lose Presumption of Fitness in Grandparent Visitation Case
Author: Wendy Murphy, Esq..
Source: Volume 13, Number 02, December/January 2008 , pp.23-24(2)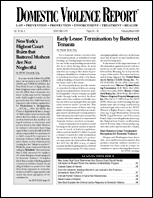 next article > |return to table of contents
Abstract:
In an important victory for victims of domestic violence and their children, the Massachusetts Appeals Court overturned a family court ruling dismissing a grandparent visitation case. The lower court had granted the abusive father's motion to dismiss based on his argument that the maternal grandmother, who had no preexisting relationship with her grandson, had no right to court-ordered visitation. The Appeals Court reversed the lower court, citing the father's history of severe domestic violence and the fact that the child's mother had disappeared under suspicious circumstances. This article discusses the background and details of the case.
Keywords: Blixt v. Blixt; Troxel v. Granville; Marjorrie Sher v. Robert Desmond, ___ Mass. App. Ct ___ (September 27, 2007)

Affiliations: 1: New England School of Law.