Why Coalitions Are Critical to Ending Domestic Violence
Author: Lindsay McDaniel.
Source: Volume 19, Number 05, June/July 2014 , pp.71-71(1)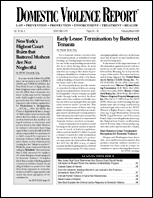 < previous article |next article > |return to table of contents
Abstract:
State and territorial coalitions have played a unique role in our nation's response to domestic violence. Their history is rooted in the battered women's movement and the values that define this movement, including working towards social justice, self-determination, and ending the oppression of women. This article defines them and discusses their history and role.
Keywords: Domestic violence advocacy

Affiliations: 1: National Network to End Domestic Violence (NNEDV).