Case Summaries
Author: Anne L. Perry.
Source: Volume 19, Number 04, April/May 2014 , pp.57-59(3)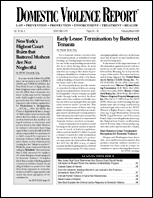 < previous article |next article > |return to table of contents
Abstract:
This column discusses recent court cases of interest to readers of DVR, including In re Marriage of Crystal and Shawn H. , 2013 WL 2940952 (Cal. Ct. App. 2013); Washburn v. City of Federal Way , 310 P.3d 1275 (Wash. 2013); and Doe ex rel. Doe v. Whelan, 732 F.3d 151 (2d Cir. 2013)
Keywords: California: Appellate Court Reverses Reunification With Abusive Father; Washington: Police Held Liable for Victim Safety When Serving Order of Protection; Second Circuit: Removal of Children Affirmed Due to Imminent Threat to Their Safety; Connecticu

Affiliations: 1: Contributing Editor.