Criminal Case Processing in Brooklyn's Integrated Domestic Violence Court
Author: Richard R. Peterson.
Source: Volume 19, Number 04, April/May 2014 , pp.55-56(2)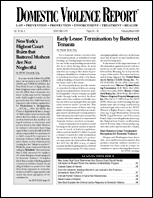 < previous article |next article > |return to table of contents
Abstract:
Over the past 20 years, many jurisdictions have established specialized criminal court parts to address the difficult issues raised in domestic violence (DV) cases. Criminal DV cases are even more complex when a family also has custody, visitation, child support, matrimonial, or other cases in the courts. To address these issues, some jurisdictions established integrated domestic violence (IDV) courts. This article discusses procedures in Brooklyn, NY.
Keywords: IDV Court; conviction rate; conviction charge severity

Affiliations: 1: New York City Criminal Justice Agency, Inc..