Form of Emotional Blackmail: Animal Abuse as a Risk Factor for Domestic Violence
Author: Phil Arkow.
Source: Volume 19, Number 04, April/May 2014 , pp.49-53(5)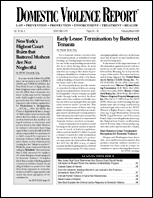 next article > |return to table of contents
Abstract:
The traditional approach to domestic violence by advocates and law enforcement agencies focuses solely on the interrelationships of the human residents of the household. However, law reform and public policy are now addressing the significant presence and emotional impact of companion animals as important, albeit nonhuman, "members of the family." The depth of attachments to these pets, particularly among women and children in homes marked by domestic violence and child abuse, frequently enables batterers to target animals with threatened or actual cruelty as a form of emotional blackmail to gain additional power and control. This article describes current research, recent laws, and novel responses that address the links between animal abuse and domestic violence. Phil Arkow is Coordinator of the National Link Coalition, the National Resource Center on the Link Between Animal Abuse and Human Violence, and chair of the Latham Foundation's Animal Abuse and Family Violence Prevention Project.
Keywords: Animal abuse; risk factors for lethality; Duluth Model Power and Control Wheel

Affiliations: 1: National Link Coalition.