DVDs on Officer Perps, Child Witnesses, and Latino Homes
Author: Joan Zorza, Esq..
Source: Volume 13, Number 03, February/March 2008 , pp.39-40(2)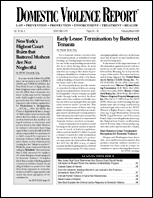 < previous article |next article > |return to table of contents
Abstract:
Intermedia has just released three new DVDs on domestic violence (DV) on topics little covered by the media: Code of Silence: Officer-Initiated Domestic Violence , 2007; There's No Place Like Home: Growing Up With Family Violence , 2007; and La Guerra en Casa (The War at Home), 2006.
Keywords: female partners of police officers; domestic violence in the Latin community

Affiliations: 1: Editor, Domestic Violence Report.