Batterers in the Criminal Justice System—Part I
Author: Joan Zorza, Esq..
Source: Volume 13, Number 03, February/March 2008 , pp.36-39(4)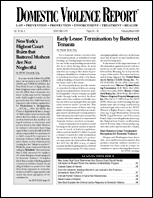 < previous article |next article > |return to table of contents
Abstract:
This is the first in a two part review of the book, "Why Do They Kill? Men Who Murder Their Intimate Partners" (Vanderbilt University Press, 288 pages, 2007) written by David Adams, the founder of Emerge, the very first batterer intervention program (BIP) in the country. It is the very first study of batterers who killed their intimate partners (IPs), examining 31 convicted men serving in five Massachusetts prisons.
Keywords: five killer profiles

Affiliations: 1: Editor, Domestic Violence Report.