Restricting Contact With Toxic Fathers
Author: Allen M. Bailey, J.D..
Source: Volume 13, Number 03, February/March 2008 , pp.33-36(4)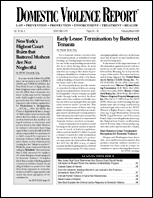 < previous article |next article > |return to table of contents
Abstract:
How can our courts protect the children of abusive and controlling fathers after their parents separate? In at least some cases, all contact with such fathers can be ended and the court can be confident that the children will not be harmed. This article discusses that question, summarizes recent publications on the subject, and offers recommendations.
Keywords: "Parenting by Men Who Batter; New Directions for Assessment and Intervention", by Jeffrey L. Edleson and Oliver J. Williams, Eds., Oxford University Press (2007)

Affiliations: .