The U Visa: A Tool for Some Non-Citizen Battered Women
Author: Rena Cutlip-Mason, Esq. .; Natalie Nanasi, Esq. .; Joan Zorza, Esq..
Source: Volume 13, Number 03, February/March 2008 , pp.33-35(3)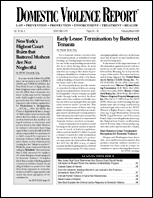 next article > |return to table of contents
Abstract:
The U visa was created by VAWA in October 2000 under the Victims of Trafficking and Violence Prevention Act of 2000. However, the regulations were not released by the U.S. Citizenship and Immigration Services (USCIS) until September 17, 2007, after nearly seven years of waiting, lobbying and advocacy. They became effective on October 17, 2007. This article discusses their application in a case study of a woman from Zambia abused by her father.
Keywords: U Visa Is Available to Some Cooperating DV Victims; Tahirih Justice Center; benefits of U-Visa status; where to send u-visa application

Affiliations: 1: Tahirih Justice Center; 2: Tahirih Justice Center; 3: Editor of DVR.