Complete Issue
Author: Joan Zorza, Esq..
Source: Volume 13, Number 05, June/July 2008 , pp.65-80(16)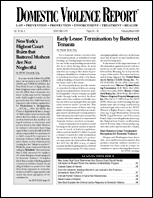 < previous article |return to table of contents
Abstract:
This is the complete issue, Volume 13 Number 5. It includes the full text of all the articles listed above, with hyperlinks from table of contents entries to articles and linked article continuations, to facilitate reading.
Keywords: Margaret Hagen; Whores of the Court; guardian ad litem; GAL; New York: In Context of Battered Spouse's Divorce and Maintenance, Affidavit of Support of Sponsored Immigrant Was Enforceable as Contract; Indiana: Wife Killer Not Entitled to Wife's L

Affiliations: 1: Editor, Domestic Violence Report.