U.S. Supreme Court Will Decide the Forfeiture Issue in California's Giles Case
Author: Anne L. Perry, Esq. .
Source: Volume 13, Number 05, June/July 2008 , pp.71-72(2)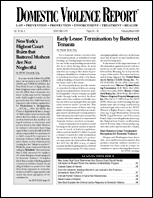 < previous article |next article > |return to table of contents
Abstract:
This article focuses on the application of the forfeiture doctrine in the "Giles" case.
Keywords: People v. Giles, 40 Cal. 4th 833 (Cal. 2007), cert. granted (No. 07-6053, U.S. Jan. 2008); Nancy K. D. Lemon

Affiliations: 1: Contributing Editor at DVR.