Empowering Battered Women by Expanding Their Options: Part I
Author: Joan Zorza, Esq..
Source: Volume 13, Number 06, August/September 2008 , pp.87-89(3)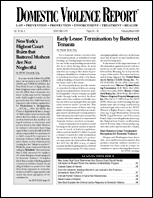 < previous article |next article > |return to table of contents
Abstract:
This two-part article will examine two new sources, a law review article and a new book, both of which urge society to empower battered women by expanding their available options, recognizing that one size does not fit all. The second part of this article will examine Lisa Goodman and Deborah Epstein's book, "Listening to Battered Women: A Survivor-Centered Approach to Advocacy, Mental Health, and Justice".
Keywords: "Recognizing Civil Protection Orders for Domestic Violence: Can Law Help End the Abuse Without Ending the Relationship", Sally F. Goldfarb, 29 Cardozo L. Rev. 1487 (2008); Henley v. Iowa Dist. Court; Supreme Court of Ohio v. Lucas

Affiliations: 1: Editor, Domestic Violence Report.