Empowering Battered Women by Expanding Their Options: Part II
Author: Joan Zorza, Esq..
Source: Volume 14, Number 01, October/November 2008 , pp.3-6(4)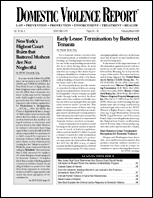 < previous article |next article > |return to table of contents
Abstract:
Part I of this article discussed Sally Goldfarb's Cardozo Law Review article which persuasively argues that courts should permit battered women who wish to continue their relationships with their abusers to obtain orders of protection that allow them to cohabit with their abusers. Part II examines a book that picks up the concept that one size does not fit all and advocates that our response to help battered women must support them in what works best for them: "Listening to Battered Women: A Survivor-Centered Approach to Advocacy, Mental Health, and Justice", by Lisa A. Goodman and Deborah Epstein, American Psychological Association (2008, 184 pp.).
Keywords: the majority of mental health practitioners receive little or no training in domestic violence with the result that most of them still do not screen for, recognize, address, or treat IPV; authors urge DV training

Affiliations: 1: Editor, Domestic Violence Report.