Prosecuting Intimate Partner Sexual Assault
Author: Jennifer Gentile Long.
Source: Volume 14, Number 01, October/November 2008 , pp.1-3 (3)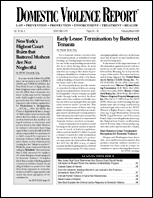 < previous article |next article > |return to table of contents
Abstract:
The majority of sexual assault victims know their assailants. Despite this fact, the public still expects rapists to be weapon wielding strangers who attack their victims in dark alleys. This expectation, grounded in cultural bias, victim blaming, rape myth acceptance, and faulty expectations about victim behavior, creates unique challenges to the successful prosecution of non-stranger sexual assault. A current or former relationship between the victim and the defendant can lead to additional complexities that often make the arrest, prosecution, and conviction of an intimate partner rapist even more difficult. This article discusses the difficulties of prosecuting such cases and how to overcome them.
Keywords: Crawford v. Washington

Affiliations: 1: National District Attorneys Association's National Center for the Prosecution of Violence (NCPVAW).