Complete Issue
Author: Joan Zorza, Esq..
Source: Volume 14, Number 02, December/January 2009 , pp.17-32(16)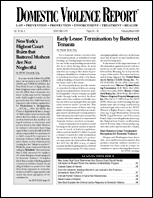 < previous article |return to table of contents
Abstract:
This is the complete issue, Volume 14 Number 2. It includes the full text of the articles listed above, with hyperlinks from table of contents entries to articles and linked article continuations, to facilitate reading.
Keywords: professional misrepresentation of electroshock; scientific findings: ECT as damage; Murphy v. Okeke, ___A.2d___, 2008 WL 2605065 (D.C. App. 2008); decision provides a clear rejection of victim blaming in domestic violence courts; importance of attorn

Affiliations: 1: Editor, Domestic Violence Report.