Restraining Order Cases From Around the Country DVR1402
Author: Anne L. Perry, Esq. .
Source: Volume 14, Number 02, December/January 2009 , pp.85-87(3)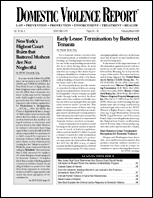 < previous article |next article > |return to table of contents
Abstract:
This column summarizes and comments on recent cases involving restraining orders, including: Copp v. Liberty, 952 A.2d 976 (Me. 2008); Miriam M. v. Warren M., 859 N.Y.S.2d 66 (App. Div., 1st Dept. 2008); In re Bahr, 2008 WL 1952152 (unpub.)(Wa. Ct. App. 2008); Fleckner v. Fleckner, ___N.E.2d ___, 2008 WL 3198724 (Ohio Ct. App. 2008).
Keywords: Darlene Copp; Scott Liberty; Maine: Petitioner Entitled to Extension of Order of Protection, Expiring When Youngest Child Reaches Age of Majority; New York: Order of Protection Extended to Victim's Same-Sex Domestic Partner; Illinois: Applicant's

Affiliations: 1: Contributing Editor at DVR.