Appeals Court Reverses Court's Revictimization of the Victim
Author: Joan Meier, Esq..
Source: Volume 14, Number 02, December/January 2009 , pp.81-82(2)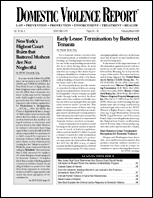 < previous article |next article > |return to table of contents
Abstract:
Ms. Murphy and Mr. Okeke had been romantically involved when Mr. Okeke invited her to attend a party at his apartment on July 4, 2003. Upon discovering from a guest that Okeke was sleeping with another woman, Murphy began to cry and yell. In response, Okeke demanded that Murphy leave his apartment. When she did not, Okeke assaulted her—and after the guests all left he continued to beat her so violently that she jumped out of a second story window to escape. She received emergency room treatment and missed several weeks of work. Murphy filed for a civil protection order (CPO) against Okeke in the D.C. Superior Court. After learning of the petition, he filed a cross-petition alleging Murphy had physically and verbally assaulted him and had also destroyed some of his property. This article summarizes and discusses the outcome of the cases.
Keywords: Murphy v. Okeke, ___A.2d___, 2008 WL 2605065 (D.C. App. 2008); decision provides a clear rejection of victim blaming in domestic violence courts; importance of attorneys' fee awards to facilitate victims' ability to seek legal protection

Affiliations: 1: George Washington University Law School.