Complete Issue
Author: Joan Zorza, Esq..
Source: Volume 14, Number 04, April/May 2009 , pp.49-64(16)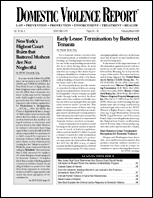 next article > |return to table of contents
Abstract:
This is the complete issue, Volume 14 Number 4. It includes the full text of all the articles listed above, with hyperlinks from table of contents entries to articles and linked article continuations, to facilitate reading.
Keywords: extension of protection to victims of violence who are in a "dating or intimate partner relationship"; offender characteristics; duration of stalking; Editor's Introduction; Introduction of Special Issue Editors Kelly Browe Olson and Nancy Ver

Affiliations: 1: Editor, Domestic Violence Report.