Batterer Murderers Who Erase Their Victims
Author: Joan Zorza, Esq..
Source: Volume 14, Number 04, April/May 2009 , pp.55-57(3)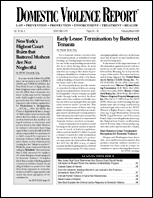 next article > |return to table of contents
Abstract:
By far the most complete resource to date on men who kill their intimate partners [IPs] is David Adams's book, "Why Do They Kill? Men Who Murder Their Intimate Partners". However, two new books, both of which are reviewed here, have recently come out on the topic. Here they are reviewed and discussed.
Keywords: Scott Peterson's killing of his wife, Lacy Peterson; Marilee Strong; Erased: Missing Women, Murdered Wives; F. Lee Bailey, When the Husband Is the Suspect

Affiliations: 1: Editor, Domestic Violence Report.