The Wingspread Conference, Part I
Author: Nancy K. D. Lemon.
Source: Volume 14, Number 04, April/May 2009 , pp.53-56(4)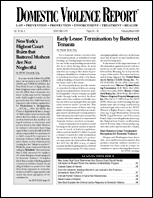 next article > |return to table of contents
Abstract:
This is the first of three sections of the Special Issue of Family Court Review issuing from the Wingspread Conference in Wisconsin in 2007.
Keywords: Editor's Introduction; Introduction of Special Issue Editors Kelly Browe Olson and Nancy Ver Steegh; "Beyond Politics and Positions: A Call for Collaboration Between Family Court and Domestic Violence Professionals", by Peter Salem and Billie L

Affiliations: .