Personal Jurisdiction in Protective Order Decisions
Author: Anne L. Perry, Esq..
Source: Volume 14, Number 04, April/May 2009 , pp.51-52(2)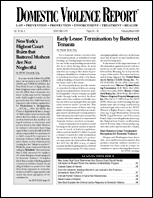 next article > |return to table of contents
Abstract:
This column discusses recent court cases involving protective orders, a subject of interest to readers of DVR, including: Caplan v. Donovan , 879 N.E.2d 117 (Mass.), cert. denied , 128 S.Ct. 2088 (2008); Dobos v. Dobos, 2008 WL 4767081 (Ohio Ct. App. 2008).
Keywords: Massachusetts: Personal Jurisdiction Not Required for Abuse-Prevention Order as Long as Order Imposed No Affirmative Obligations on Defendant; Ohio: Case Remanded for Evidentiary Hearing on Fear of Imminent Harm Where CPO Denied for Lack of Jurisdict

Affiliations: 1: Contributing Editor at DVR.