New Stalking Victimization Data
Author: Joan Zorza, Esq..
Source: Volume 14, Number 04, April/May 2009 , pp.49-53(5)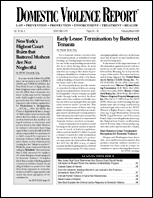 next article > |return to table of contents
Abstract:
The latest data about stalking in the U.S. comes from the Supplemental Victimization Survey [SVS] survey of stalking behaviors done in 2006. Funded by the Department of Justice Office of Violence Against Women, the SVS found that, in 2006 in the U.S., 3.4 million people over the age of 18 were stalked. The survey, the largest ever done in this country, defined stalking as "a course of conduct directed at a specific person that would cause a reasonable person to feel fear" that occurred "on at least two separate occasions." The fear varied, with approximately one in five victims fearing they would experience bodily harm; one in six feared for the safety of a child or other family member. Approximately 10% of victims feared being killed, and 40% were threatened that they or one of their family, friends, co-workers or a pet would be harmed. The study measured seven stalking behaviors.
Keywords: offender characteristics; duration of stalking

Affiliations: 1: Editor, Domestic Violence Report.