Expanding Civil Access to the Courts to Victims of Domestic Violence: A Long Time Coming in Some States
Author: Lisa A. Frisch, M. A..; Lauren L. Hunt.
Source: Volume 14, Number 04, April/May 2009 , pp.49-53(5)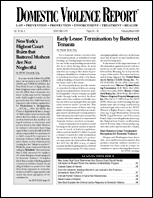 next article > |return to table of contents
Abstract:
Domestic violence laws developed in the 1970s and 1980s to address the negative impact violence has on families. During this time every state and the District of Columbia implemented statutes that allowed victims of domestic violence to obtain civil orders of protection against their abusers. Many of these statutes, however, limited the availability of this civil remedy to people related by marriage or by blood or to those who have a child in common. Consequently, civil orders of protection, one of the most effective tools for victim's safety, were unavailable to the many victims who were in nonmarital, intimate partner relationships with their abusers.
Keywords: extension of protection to victims of violence who are in a "dating or intimate partner relationship"

Affiliations: 1: The Legal Project; 2: The Legal Project.