Who Is Liable When a Batterer Kills?
Author: Anne L. Perry, Esq. .; Joan Zorza, Esq..
Source: Volume 14, Number 06, August/September 2009 , pp.87-88(2)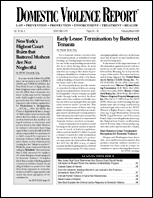 < previous article |next article > |return to table of contents
Abstract:
This article summarizes and discusses recent cases on the subject, of interest to readers of DVR.
Keywords: Gonzales v. U.S.; European Court Holds Turkey Failed to Protect Battered Woman; Sixth Circuit: Hospital May Be Liable Where Psychotic Patient Murdered His Wife 10 Days After Discharge; Emergency Medical Treatment and Active Labor Act; EMTALA; Moses v

Affiliations: 1: Contributing Editor at DVR; 2: Editor.