U.S. Supreme Court: Felony Domestic Assault Offender Not Entitled to Dismissal for Lack of a Speedy Trial
Author: Anne L. Perry, Esq..
Source: Volume 14, Number 06, August/September 2009 , pp.86-86(1)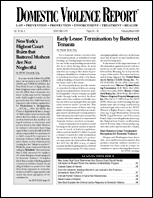 < previous article |next article > |return to table of contents
Abstract:
In a case arising from felony domestic assault and habitual offender charges, the United States Supreme Court ruled that the defendant's right to a speedy trial was not violated where changes in assigned counsel and delays sought by counsel were largely attributable to the defendant. Vermont v. Brillon , 129 S.Ct. 1283 (2009).
Keywords: Michael Brillon; writ of certiorari "improvidently granted"

Affiliations: 1: Contributing Editor at DVR.