The Wingspread Conference, Part III
Author: Nancy K. D. Lemon, Esq..
Source: Volume 14, Number 06, August/September 2009 , pp.85-87(3)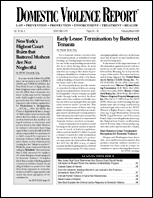 < previous article |next article > |return to table of contents
Abstract:
This column is the third and last of a series summarizing the content and findings of "Family Court Review—Special Issue on Domestic Violence", Vol. 46, pp. 523–542 ( July 2008). The special issue focused on the Wingspread Conference held in Wisconsin in 2007. The goal of the conference was to bring together a small group of family court professionals and domestic violence advocates to begin talking about ways family courts could better serve families with minor children in which domestic violence had taken place.
Keywords: "Questions About Family Court Domestic Violence Screening and Assessment", by Loretta Frederick; "Divorce and the Family Court: What Can Be Done About Domestic Violence?", by Desmond Ellis; "'It's in Their Culture: Fairness and Cultura

Affiliations: 1: Associate Editor of DVR.