Justice Denied in the NYC Family Courts
Author: Susan Lob, MSW .
Source: Volume 14, Number 06, August/September 2009 , pp.83-87(5)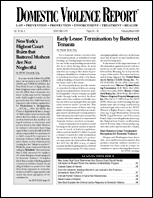 < previous article |next article > |return to table of contents
Abstract:
This is a summary of the report, Justice Denied: How Family Courts in NYC Endanger Battered Women and Children. Each year thousands of women are abused in New York City (NYC) by an intimate partner. In 2007, the NY Police Department (NYPD) responded to 229,354 domestic violence incidents and the domestic violence hotline responded to 123,409 calls. To address alarming reports by survivors of domestic violence about family court decisions that endangered them and their children and that failed to hold their abusers accountable, the Voices of Women Organizing Project (VOW) launched the Battered Mothers' Justice Campaign. This article summarizes their efforts, challenges, AND RECOMMENDATIONS.
Keywords: City's Child Welfare Agency can perpetuate abuse

Affiliations: 1: Voices of Women (VOW) Organizing Project.