Help for American Women and Children Abused Abroad
Author: Paula Lucas.
Source: Volume 14, Number 06, August/September 2009 , pp.81-82(2)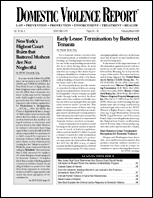 < previous article |next article > |return to table of contents
Abstract:
The Overseas Vote Foundation 2006 conducted a Post-Election Survey of Americans overseas which provided a profile of overseas voters. Thirty-four percent had moved overseas for love or marriage, 27% for personal preference, 20% for employment and 19% for other reasons. The majority, 58%, had lived overseas for ten years or more with only 9% living overseas less than two years, while 33% had lived overseas more than two years but less than 10 years. The American Domestic Violence Crisis Line works with abused American women in foreign countries to provide domestic violence and child abuse advocacy, resources and tools so that they can navigate the complicated jurisdictional, legal and social international landscapes, to be able to live their lives free of abuse either in the foreign country or back in the United States. This article deals with organizational and legislative efforts to address the problems of abused American women overseas.
Keywords: Congresswoman Carolyn Maloney (D-NY); Congressman Joe Wilson (R-SC)

Affiliations: 1: The American Domestic Violence Crisis Line.