A New Approach to Criminalizing Domestic Violence
Author: Deborah Tuerkheimer, J.D..
Source: Volume 14, Number 06, August/September 2009 , pp.81-83(3)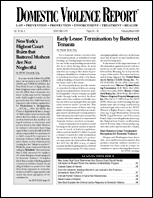 next article > |return to table of contents
Abstract:
This first-person article begins by defending the proposition that domestic violence has not yet been truly criminalized. By this, I mean that the laws applied to prosecute battering do not accurately reflect what battering is, or its harm. There is, in short, a disconnect between the criminal law and the experiences of domestic violence victims. To bridge this gap, I have in the past proposed a "course of conduct" battering statute, the basic features of which I will summarize here. Finally, I will note the endurance of the traditional approach to criminalizing violence, and suggest that resistance to the reform I have advocated is rooted in larger questions about the role of criminal law in redressing intimate partner abuse.
Keywords: battering as "course of conduct"

Affiliations: 1: DePaul University College of Law.