Literature Review
Author: Margaret R. Moreland, JD, MSLS.
Source: Volume 15, Number 01, October/November 2009 , pp.8-10(3)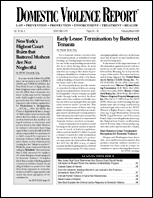 < previous article |next article > |return to table of contents
Abstract:
This column discusses recent research articles of interest to readers of DVR: "A Cruel Deception: Castle Rock , Constitutional Protection, and Conceptions of State Accountability", by G. Kristian Miccio. 10 Georgetown Journal of Gender and the Law 87 (2009); "Forfeiture by Wrongdoing in a Post- Giles World", Herb Tanner, Jr., 42 Prosecutor, Journal of the National District Attorneys Association 34 (Oct-Dec 2008); and "When Human Rights Conflict: Mediating International Parental Kidnapping Disputes Involving the Domestic Violence Defense", by Julia Alanen. 40 Miami Inter-American Law Review, 49 (2008).
Keywords: Town of Castle Rock v. Gonzales; Jessica Gonzales; Burella; DeShaney v. Winnebago County , 489 U.S. 189 (1989); DVR on mediation

Affiliations: 1: Pace University School of Law Library.