Washington Allows Wrongful Discharge Case
Author: Staff Editors.
Source: Volume 15, Number 01, October/November 2009 , pp.5-6(2)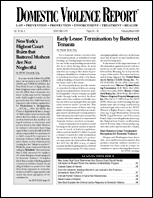 < previous article |next article > |return to table of contents
Abstract:
The Supreme Court of Washington State held that the State had a clear public policy of protecting domestic survivors and their families which allowed the plaintiff, Ramona Danny, to proceed with her wrongful discharge claim against her former employer, Laidlaw Transit Services. This article discusses this case in which the Washington State Coalition Against Domestic Violence filed an amicus brief in support of Ramona Danny.
Keywords: Danny v. Laidlaw Transit Services, Inc. , 193 P.3d 128 (Wash. 2008).

Affiliations: .