Shelters Can Live With Woods v. Horton
Author: Yvonne Lindgren.
Source: Volume 15, Number 01, October/November 2009 , pp.1-3 (3)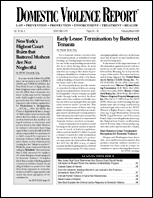 < previous article |next article > |return to table of contents
Abstract:
In Woods v. Horton, California's Third District Court of Appeals ruled that a state Health & Safety Code section that funds domestic violence shelter services specifically for battered women and their children violates equal protection. Using the strict scrutiny standard of review, the court held that women and men are "similarly situated" with regard to domestic violence under the state's Equal Protection Clause and anti-discrimination statutes. The court ordered the language in the code to be revised to make state funding for domestic violence shelter services gender neutral. The court ruled, however, that domestic violence services provided to men and women need not be identical because women are battered in significantly greater numbers than men and suffer greater injuries when battered. This article summarizes the background, the particulars of the case, and its implications.
Keywords: court's remedy for violation of equal protection

Affiliations: 1: Hastings College of the Law .