Complete Issue
Author: Joan Zorza, Esq..
Source: Volume 15, Number 02, December/January 2010 , pp.17-32(16)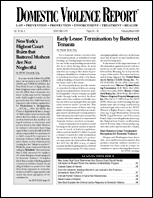 < previous article |return to table of contents
Abstract:
This is the complete issue, Volume 15 Number 2. It includes the full text of the articles listed above, with hyperlinks from table of contents entries to articles and linked article continuations, to facilitate reading.
Keywords: stalking as predictor; Robinson v. Cincinnati Metropolitan Housing Authority, 2008 WL 1924255 (S.D. Ohio 2008); University of Mississippi 2008 Annual Law Student Writing Competition on Domestic Violence; Georgia v. Randolph; United States v. Davis; B

Affiliations: 1: Editor, Domestic Violence Report.