Literature Review
Author: Margaret R. Moreland, J.D., M.S.L.S..
Source: Volume 15, Number 02, December/January 2010 , pp.23-24(2)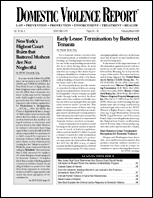 < previous article |next article > |return to table of contents
Abstract:
This column discusses two recent research articles of interest to readers of DVR: "Breaking Into the Marital Home to Break Up Domestic Violence: Fourth Amendment Analysis of 'Disputed Permission'", by Amanda Jane Proctor, 170 American University Journal of Gender, Social Policy & the Law 139 (2009) and "Stories Absent From the Courtroom: Responding to Domestic Violence in the Context of HIV and AIDS", by Jane K. Stoever. 87 North Carolina Law Review 1157 (2009).
Keywords: University of Mississippi 2008 Annual Law Student Writing Competition on Domestic Violence; Georgia v. Randolph; United States v. Davis; Brigham City v. Stuart

Affiliations: 1: Pace University School of Law Library.